History
THE KANDAHAR DID NOT ARRIVE HERE BY CHANCE.
The Arlberg Kandahar takes place successively at Saint Anton (Austria), Garmisch Partenkirschen (Germany) and, since 1948, at Chamonix Mont Blanc in France. A selection of internationally renowned resorts to organise what is one of the greatest events on the circuit.
HISTORY IN THE MAKING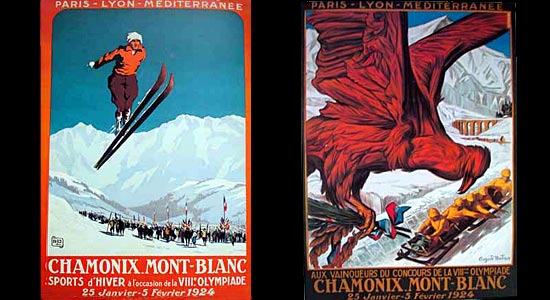 It was at Chamonix that the members of the Ski Club of Great Britain used to come to carry out their tests (in horse-drawn coaches!) led by Henry Lunn, father of Arnold, the man behind the famous Arlberg Kandahar event. With the development of tourism and facilities, skiing in the valley of Chamonix has developed ever since, together with its considerable international reputation.
The first Winter Olympic Games of 1924 were undoubtedly when Chamonix achieved international recognition for the first time.
The development of facilities in the valley opened up access to exceptional sites. At the foot of the Mont Blanc massive, all the ski areas offer exceptional panoramic views, with excellent quality high altitude skiing and snow conditions, on a variety of pistes. Today, people come from the world over for the 20 km of off-piste skiing in the "Vallée Blanche", to ski or surf on the difficult pistes of the Grands Montets, to take advantage of the incredible views at the Brévent-Flégère or else to enjoy the gentle, family runs at Les Houches.
Chamonix has naturally become a part of skiing history.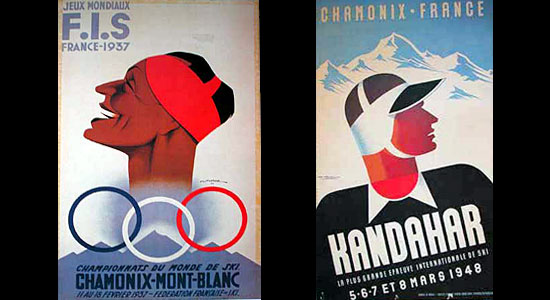 Alpine skiing and all the latest snow activities have evolved and continue to evolve here.
Because of its exceptional position and historical facilities, (the Aiguille du Midi cable car was inaugurated in 1954, and is the highest in Europe), Chamonix can be said to participate in the evolution of skiing on a daily basis.
French Ski and Mountaineering School (created in Chamonix in 1945) trains all the French ski instructors of tomorrow and the alpine section of the Sports Club helps to form the champions of the future.
Skiing in Chamonix has always been a passion and one which is shared by the greatest possible number of people, from beginners to the very best.
The organising committee of this major and legendary event is proof of the attachment the valley has both for its history and for its environment.
THE KANDAHAR, A LEGENDARY EVENT
The history leading up to the creation of the Kandahar, its ground-breaking rules, the introduction of the combined event, its winners which can still be counted on the fingers of one hand and the host resorts of international repute, are all an integrate part of the Arlberg Kandahar legend.
The Kandahar existed before the creation of the World Cup circuit. At the time those who won at the foot of Mont Blanc became legends in their own lifetimes! Winning the title (with medals inscribed with the magical letters "AK") was the equivalent of being awarded a supreme accolade and for decades, the Arlberg Kandahar races were the ultimate events in alpine skiing.

Created in 1928, it was the first international alpine competition to combine downhill and slalom events. This combination still exists in the Olympic Games and the World Championships. Both spectacular and very difficult, it remains a measure of excellence, even if over the past few years, skiers are increasingly less suited to such events.
By preserving the Kandahar name, and the Combined discipline, in particular in the World Cup rankings, Chamonix is stands out in its desire to continue the Kandahar legend.
KANDAHAR, A WOUNDED TOWN IN AFGHANISTAN
Kandahar, a wounded town in Afghanistan
The trophies for the first skiing competitions at the beginning of the century were given out by Lord Roberts of Kandahar.
The Lord had been awarded his nobility in recognition of the liberation of the battalion surrounded in the town of Kandahar during the Afghanistan war. Kandahar was founded in the fourth century by Alexander the Great and in Afghan means "Alexandria". After this victory, Frederick Sleigh Roberts, one of Queen Victoria's Field Marshalls, became one of the most popular men in the British army.

Since this time, Kandahar has, for other reasons, come back to the front of the world's stage!
Les grandes dates du ski dans la vallée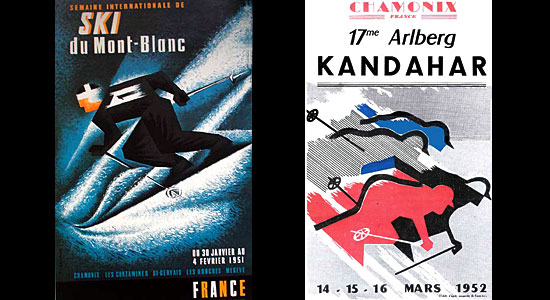 2012 - Coupe du Monde de ski alpin Kandahar 4 et 5 février 2012
2011 - Coupe du Monde de ski alpin Kandahar 29 et 30 janvier 2011
2008 - Coupe du Monde de ski alpin Kandahar 26 et 27 janvier 2008
2007 - Coupe du Monde de ski alpin Kandahar 20 et 21 janvier 2007
Epreuve Annulée
2006 - Coupe du Monde de ski alpin Kandahar 3 et 4 février 2006
2005 - Coupe du Monde de ski alpin Kandahar 8 et 9 janvier 2005
2004 - Coupe du Monde de Ski Alpin aux Houches, Arlberg Kandahar 10 et 11 janvier 2004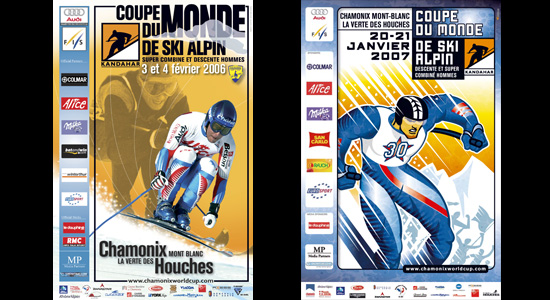 2003 - Coupe du Monde de Ski Alpin aux Houches, Arlberg Kandahar 8 et 9 janvier 2003
Epreuve Annulée
2000 - Coupe du Monde de Ski Alpin aux Houches, Arlberg Kandahar 8 et 9 janvier 2000
1997 - Coupe du Monde de Ski Alpin aux Houches, Arlberg Kandahar 11 et 12 janvier 1997
1995 - Enneigement artificiel aux Houches
1994 - Coupe du monde de ski alpin - Arlberg Kandahar (29 et 30 janvier)
1980 - Coupe du monde de ski alpin - Arlberg Kandahar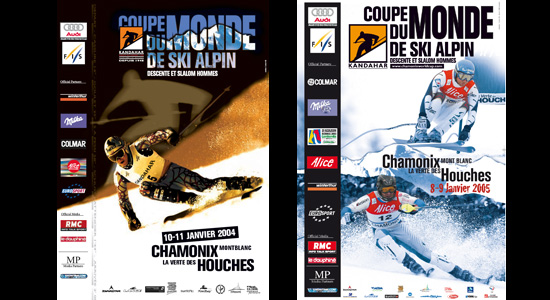 1978 - Coupe du monde de ski alpin - Arlberg Kandahar (6 au 11 février)
1975 - Coupe du monde de ski alpin - Arlberg Kandahar (29 janv-1er février)
1968 - Arlberg Kandahar (23-25 février)
1963 - Arlberg Kandahar (9 au 11 mars)
1962 - Championnats du monde à Chamonix
1957 - Arlberg Kandahar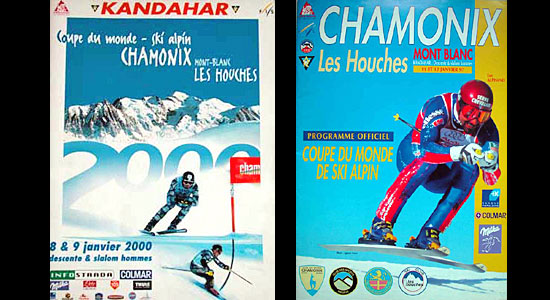 1954 /1955 - Fin de la construction du 1er et du 2ème tronçon du téléphérique de l'aiguille du Midi (3842 m)
1952 - Arlberg Kandahar
1948 - 1ère édition Arlberg Kandahar (5 au 7 mars)
1937 - Championnats du monde sur les pistes des Houches (victoire d'Emile Allais)
1936 - Inauguration du téléphérique de Bellevue aux Houches
Années 30 - Création des premières écoles de ski
1929 - Inauguration du téléphérique du Brévent (2525m). Il resta pendant un quart de siècle, le plus haut téléphérique de France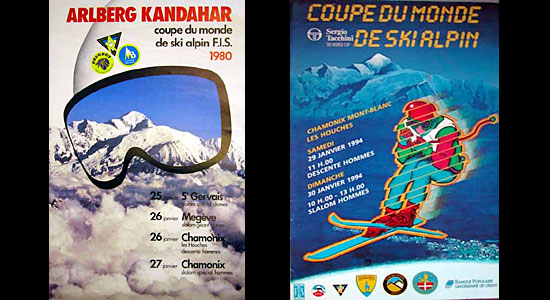 1924 - Premier téléphérique à Chamonix (gare de Paraz 1623 m) Jeux Olympiques d'hiver à Chamonix
Années 20 - Premières formations professionnelles
1914/1918 - Utilisation des skis par l'armée
1908 - Premières compétitions internationales
1896 - Michel Payot fait les premiers essais et introduit la pratique du ski dans la vallée, d'abord comme moyen de locomotion, avant de devenir un jeu.
1893 - Fabrication de la première paire de skis dans la vallée par un artisan local
---
Results of the Alberg Kandahar in Chamonix (1948-2006)
2016
Downhill Men
1- PARIS Dominik (ITA) 2- NYMAN Steven (USA) 3- FEUZ Beat (SUI)

Alpine Combined Men
1- PINTURAULT Alexis (FRA) 2- PARIS Dominik (ITA) 3-MERMILLOD BLONDIN Thomas (FRA)
2012
Downhill Men (reprise Val Gardena)
1. KROELL Klaus (AUT) 2. MILLER Bode (USA) 3. CUCHE Didier (SUI)

Downhill Men (Kandahar)
1. HUDEC Jan (CAN) 2. BAUMANN Romed (AUT) 3. GUAY Erik (CAN)

Super Combined Men
1. BAUMANN Romed (AUT) 2. PINTURAULT Alexis (FRA) 3. FEUZ Beat (SUI)
2011
Downhill Men
1. CUCHE Didier (SUI) 2. PARIS Dominik (ITA) 3. KROELL Klaus (AUT)

Super Combined Men
1. KOSTELIC Ivica (CRO) 2. ZRNCIC-DIM Natko (CRO) 3. SVINDAL Aksel Lund (NOR)
2008
Downhill Men
1. SULLIVAN Marco (USA) 2. CUCHE Didier (SUI) 3. JERMAN Andrej (SLO)

Super Combined Men
1. MILLER Bode (USA) 2. KOSTELIC Ivica 3. SCHOENFELDER Rainer (AUT)
2006
Super Combined Men
1. RAICH Benjamin (AUT) 2. SCHOENFELDER Rainer (AUT) 3. MILLER Bode (USA)
2005
Downhill Men
1. GRUGGER Johann (AUT) 2. GHEDINA Kristian (ITA) 3. WALCHHOFER Michael (AUT)

Slalom Men
1. ROCCA Giorgio (ITA) 2. RAICH Benjamin (AUT) 3. LARSSON Markus (SWE)
2004
Downhill Men
1. EBERHARTER Stephan (AUT) 2.KJUS Lasse (NOR) 3. WACHHOFER Michael (AUT)

Slalom Men
1. ROCCA Giorgio (ITA) 2. BOURGEAT Pierrick (FRA) 3. MILLER Bode (USA)

Combined Men
1. MILLER Bode (USA) 2. RAICH Benjamin (AUT) 3. KJUS Lasse (NOR)
2000
Downhill Men
1. MAIER Hermann (AUT) 2. EBERHARTER Stephan (AUT) 3. TRINKL Hannes (AUT)

Slalom Men
1. WEISS Angelo (ITA) 2. AAMODT Kjetil André (NOR) 3. VRHOVNIK Matjaz (SLO)

Combined Men
1. AAMODT Kjetil André (NOR) 2. MAIER Hermann (AUT) 3. ACCOLA Paul (SUI)
1997
Downhill Men
1. GHEDINA Kristian (ITA) 2. SKAARDAL Atle (NOR) 3. FRANZ Werner (AUT)

Slalom Men
1. SYKORA Thomas (AUT) 2. STANGASSINGER Thomas (AUT) 3. HANSSON Martin (SUE)

Combined Men
1. MADER Guenther (AUT) 2. AAMODT Kjetil André (NOR) 3. KERNEN Bruno (SUI)
1994
Downhill Men
1. AAMODT Kjetil André (NOR) 2. CRETIER Jean-Luc (FRA) 3. TRINKL Hannes (AUT)

Slalom Men
1. TOMBA Alberto (ITA) 2. FOGDOE Thomas (SUE) 3. SYKORA Thomas (AUT) 3. KOSIR Jure (SLO)

Combined Men
1. AAMODT Kjetil André (NOR) 2. KJUS Lasse (NOR) 3. STRAND NILSEN H.C. (NOR)
1980
Downhill Men Chamonix (26.01.1980)
Annulée (brume) et reportée à Lake Louise (Canada) après les XIIIèmes Jeux Olympiques d'hiver de Lake Placid

Downhill Men Lake Louise (Canada) / 4.03.1980
1. PLANK Herbert (ITA) 2 WEIRATHER Harti (AUT) 3. GRISSMANN Werner (AUT)

Slalom Men Chamonix (27.01.1980)
1. STENMARK Ingemar (SUE) 2. KRIZAJ Bojan (YOU) 3. ORLAINSKY Christian (AUT)

Combined Men Chamonix (calcul final) / 4.03.1980
1. STEINER Anton (AUT) 2. WENZEL Andreas (LIE) 3. MAHRE Phil (USA)
1978
Downhill Men
1. READ Ken (CAN) 2. MURRAY Dave (CAN) 3. VEITH Michael (RFA)

Slalom Men
1. MAHRE Phil (USA) 2. STENMARK Ingemar (SUE) 3. DE CHIESA Paolo (ITA)

Combined Men
1. MULLER Peter (SUI) 2. KALHOR ( ? ) 3. Mc GEE ( ? )
1975
Downhill Men
1. VESTI Walter (SUI) 2. BERTHOD René (SUI) 3. ROUX Philippe (SUI)

Slalom Men
1. THOENI Gustavo (ITA) 2. STENMARK Ingemar (SUE) 3. HINTERSEER Hans (AUT)

Combined Men
1.THOENI Gustavo (ITA) 2. FERNANDEZ-OCHOA Francisco (ESP) 3. HAKER Eric (NOR)

Downhill Women
1. ZURBRIGGEN Bernadette (SUI) 2. MOSER-PROEL Anne-Marie (AUT) 3. NADIG Marie-Thérèse (SUI)

Slalom Women
1. MOREROD Lise-Marie (SUI) 2. WENZEL Hanni (LIE) 3. MITTERMAIER Rosi (RFA)

Combined Women
1. MOSER-PROEL Anne-Marie (AUT) 2. WENZEL Hanni (LIE) 3. MITTERMAIER Rosi (RFA)
1968
Downhill Men
1. ORCEL Bernard (FRA) 2. HUGGLER Kurt (SUI) 3. PERILLAT Guy (FRA)

Slalom Men
1. TRITSCHER Reinhard AUT) 2. HUBER Herbert (AUT) 3. ROFNER Harald (AUT)

Combined Men
1. PERILLAT Guy (FRA) 2. ORCEL Bernard (FRA) 3. TRITSCHER Reinhard (AUT)

Downhill Women
1. GREENE Nancy (CAN) 2. HAAS Christl (AUT) 3. GALICA Divina (GBR)

Slalom Women
1. GREENE Nancy (CAN) 2. STEURER Florence (FRA) 3. FAMOSE Annie (FRA)

Combined Women
1. GREENE Nancy (CAN) 2. HAAS Christl (AUT) 3. STEURER Florence (FRA)
1963
Downhill Men
1. LEITNER Ludwig (RFA) 2. KILLY Jean-Claude (FRA) 3. MESSNER Heinrich (AUT)

Slalom Men
1. BONLIEU François (FRA) 2. PERILLAT Guy (FRA) 3. LEITNER Ludwig (RFA)

Combined Men
1. BONLIEU François (FRA) 2. PERILLAT Guy (FRA) 3. LEITNER Ludwig (RFA)

Downhill Women
1. FAMOSE Annie (FRA) 2. ZIMMERMANN Edith (AUT) 3. HAAS Christl (AUT)

Slalom Women
1. HECHER Traudl (AUT) 2. HENNEBERGER Barbara (RFA) 3. JAHN Marianne (AUT)

Combined Women
1. HECHER Traudl (AUT) 2. HENNEBERGER Barbara (RFA) 3. ZIMMERMANN Edith (AUT)
1957
Downhill Men
1. SCHRANZ Karl (AUT) 2. BOZON Charles (FRA) 3. LEITNER Hias (AUT)

Slalom Men
1. MARK Toni (AUT) 2. SCHRANZ Karl (AUT) 3. BOZON Charles (FRA)

Combined Men
1. SCHRANZ Karl (AUT) 2. BOZON Charles (FRA) 3. LEITNER Hias (AUT)

Downhill Women
1. TELINGE Danièle (FRA) 2. BASLER Hannelore (RFA) 3. HOFHERR Hilde (AUT)

Slalom Women
1. BLATTL Lotte (AUT) 2. AGNEL Marysette (FRA) 3. KLECKER Trude (AUT)

Combined Women
1. BLATTL Lotte (AUT) 2. TELINGE Danièle (FRA) 3. KLECKER Trude (AUT)
1952
Downhill Men
1. HUBER Fritz (AUT) 2. SCHNEIDER Otmar (AUT) 3. PRAVDA Christian (AUT)

Slalom Men
1. GROSJEAN Fernand (SUI) 2. MOLTERER Andreas (AUT) 3. HUBER Fritz (AUT)

Combined Men
1. HUBER Fritz (AUT) 2. PRAVDA Christian (AUT) 3. SCHNEIDER Otmar (AUT)

Downhill Women
1. BUCHNER Mirl (GER) 2. GARTNER Hildesuse (GER) 3. AGNEL M. (FRA), HENWSON J. (CAN) et MEAD-LAWRENCE A. (USA)

Slalom Women
1. MAHRINGER Erika (AUT) 2. MEAD-LAWRENCE Andréa (USA) 3. KLECKER Trude (AUT)

Combined Women
1. MAHRINGER Erika (AUT) 2. MEAD-LAWRENCE Andréa (USA) 3. AGNEL Marysette (FRA)
1948
Downhill Men
1. COUTTET James (FRA) 2. PAZZI Jean (FRA) 3. MASSON Auguste (FRA)

Slalom Men
1. CHIERRONI Vittorio (ITA) 2. ALVERA Silvio (ITA) 3. HAIDER Englebert (AUT)

Combined Men
1. COUTTET James (FRA) 2. PAZZI Jean (FRA) 3. HAIDER Englebert (AUT)

Downhill Women
1. SCHUH-PROXAUF Annelise (AUT) 2. BEISER Trude (AUT) 3. SEGHI C. (ITA) et WURTELE R. (CAN)

Slalom Women
1. SEGHI Celina (ITA) 2. MEAD-LAWRENCE Andréa (USA) 3. BEISER Trude (AUT)

Combined Women
1. SEGHI Celina (ITA) 2. SCHUH-PROXAUF Annelise (AUT) 3. BEISER Trude (AUT)