The course
Chamonix, cradle of world skiing

Chamonix was one of the forerunners in winter sports, by hosting, in 1924, the 1st Winter Olympic Games, then the world championships twice, equipping its mountains with the first cable cars and by the essential Aiguille du midi. A multi-faceted adventure territory, it has also given birth to generations of champions looking for both perfection and the extreme, overcoming and humility in an environment as sublime as it is harsh.
Kandahar, one of the major player in the history of Chamonix. An emblematic event, part of the heritage of the valley since 1947, this year it complies with the requirements of the FIS and the evolution of alpine skiing by offering a piste and a restyled finish to seduce athletes and spectators. A dice as much as an ambition for a territory which however has nothing to prove and whose name is enough to move crowds: that of staying in the very closed circle of the big world ski resorts.
UNDERSTANDING THE DIFFERENT TRIALS
THE SLALOM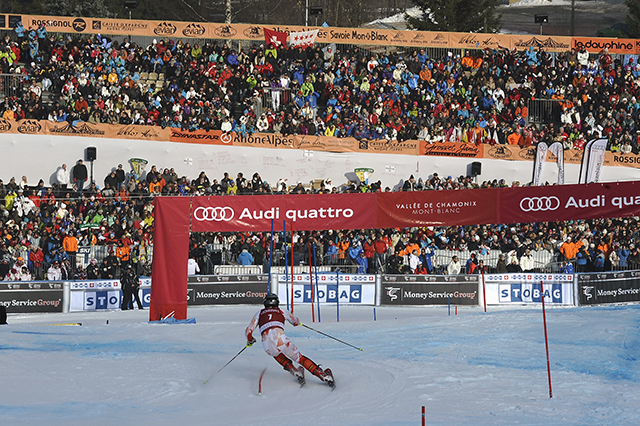 Technical event par excellence the slalom requires a lot of velocity and rapidity because the gates are very close together (from 4 to 15 meters for a total of 40 to 75 gates). A slalom is contested in two runs, where the times of the two runs are added together. Only skiers arriving in the top 30 of the first run are allowed to run the second run. The running order for the second heat is the reverse order of arrival: whoever has the best time in the first heat will start thirtieth of the second heat. The suspense is always present because skiers easily go to fault in this discipline.
THE PARALLEL GIANT SLALOM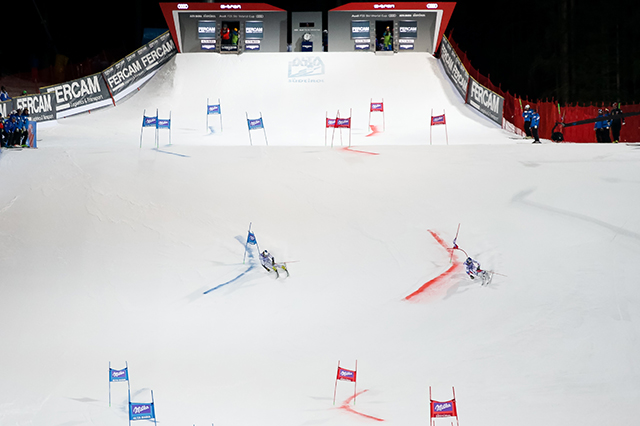 THE QUALIFYING ROUNDS
A first qualification phase in the morning with 2 runs in which the cumulative time of the two tracks (red and blue) will determine the 32 best skiers who will then compete for the round of 32. The space between the gates is 25m and the course of about 20sec includes a jump.
THE FINALS
In the afternoon, the 16th, 8th, quarter, half and small final and final are contested in a single heat. It is "sudden death", no mistake allowed!
THE RACE IN FIGURES
- 204 million viewers
- 132 hours of TV broadcasting
- 600 volunteers dedicated to the organization
- 2,000 accreditations
- 40 CRS from the National Center for Mountaineering and Ski Training for track safety
- 20 soldiers from the High Mountain Military School for timing
- 50 people for security and guarding
- 25 Red Cross volunteers
- 100 students from the Lycée Frison Roche de Chamonix in dual qualification at the Métiers de la Montagne
- 400 mountain professionals (trainers and managers of ski clubs in the valley, ESF instructors from Chamonix, Argentière, Les Houches, Vallorcine, UCPA, guides from the Chamonix company, from ENSA ) for track maintenance
- 120 journalists
- 40,000 spectators on site
- 25 kilometers of nets
- 15,000 stakes
- 50 kilometers of TV cables
- 64,500 visitors / year on Chamonixworldcup.com
- 10,000 visitors / day during the event on Chamonixworldcup.com
EXCEPTIONAL TRACK, LEGENDARY WINNERS
On the list of La Verte des Houches, the finest spatulas of all time:
James Couttet
Karl Schranz
Emile Allais
Ingemar Stenmark
Hermann Maier
Kjetil-André Aamodt
Alberto Tomba
Stefan Eberharter
Ivica Kostelic
Bode Miller
Didier Cuche
Dominik Paris
Alexis Pinturault