Infos
An event easy to access!
A fantastic show not to be missed from anywhere on the course. Pedestrian access along the slope and the finish line is free.
However, each spectator must have a "free" ticket to access public areas. No access will be authorized without a ticket, even if access is free.
Public transportation is highly recommended.

How to get to Chamonix, les Houches
BY ROAD
Direct access from the A40 'Autoroute Blanche', linked to the european motorway network. 16 km from Switzerland via the Col des Montets. 13 km from Italy via the Mont Blanc tunnel. Road information (closures, state, etc) by telephoning + 33 (0) 4 50 53 05 51.
RIDE SHARE!
BY TRAIN
There is a train station in Les Houches, on the St Gervais/Le Fayet - Vallorcine line, with connections to the TGV at Annecy. For information, telephone: + 33 (0)8 92 35 35 35.
From any train station in Haute-Savoie
BY PLANE
- Arrival at Geneva-Cointrin International Airport (88 km away) tel: (41) 22 717 71 11. There are 3 buses per day on the Geneva-Cointrin/Chamonix line, for timetables contact either the bus office at the station, the tourist office or on the web at www.chamonix.com
- Arrival at Lyon/Saint-Exupéry International Airport (220 km away) tel: + 33 (0) 4 72 22 72 21
- Arrival at Annecy-Meytet Airport (90 km away) tel: + 33 (0) 4 50 27 30 06.
BY BUS
From Geneva Airprort
Daily connections with Geneva, Italy and the principal towns in the Mont-Blanc area. chamonix.montblancbus.com
SHUTTLE SERVICE BETWEEN GENEVA AIRPORT AND CHAMONIX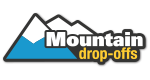 Widely recognized as the most user-friendly, flexible and reliable transfer company. Mountain Drop-offs "the" specialist in transfers, offers private or shared transport.
By using their minibuses for your trips between the airport and Chamonix for the Kandahar Ski World Cup, you are choosing a greener way of traveling, favoring a means of public transport.
Their drivers will take care of you as soon as you arrive at the airport, and will take you directly to your accommodation in the Chamonix Valley. Since flexibility is essential, you can go to their website to reserve your seats 24/7.
When you need a door-to-door transfer from and to Geneva Airport, contact them via Geneva Transfers to Chamonix, Megeve & more | Mountain Drop-offs