THE COURSE,
Best International Alpine Ski Men
Come and see them in action...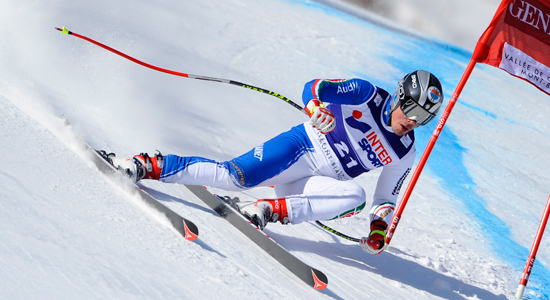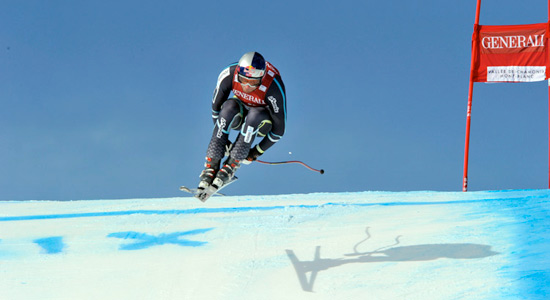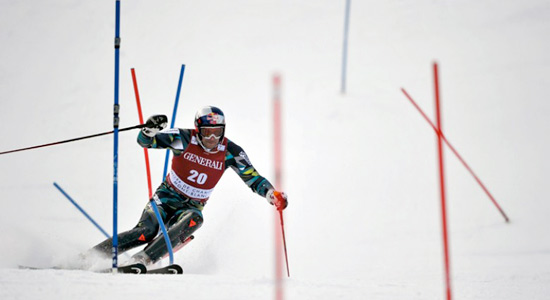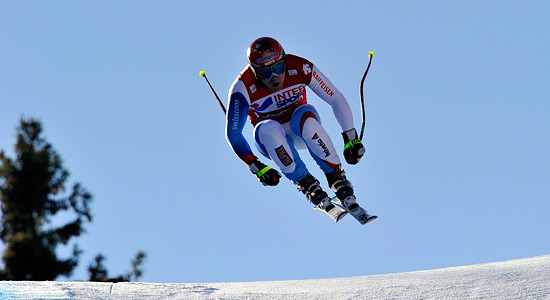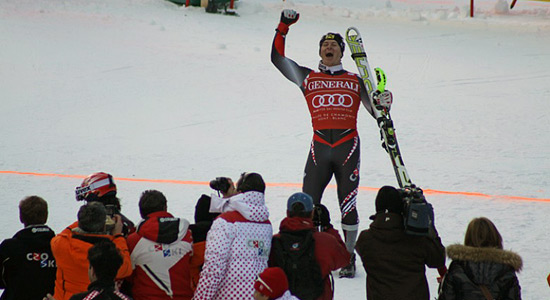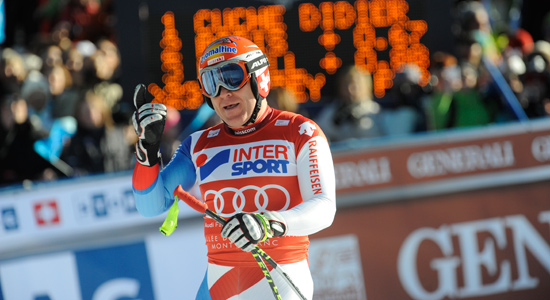 AKSEL LUND SVINDAL (NOR)
One of the main leaders among the veterans on the World Cup tour with his 33 years, AKSEL LUND SVINDAL achieved once more an impressive comeback on the circuit earlier this season with his hat-trick in downhill and Super-G at Lake Louise and Beaver Creek – a year after tearing his Achilles tendon in October 2014 while playing soccer in Soelden, Austria!
The Norwegian, surely one of the most 'decorated' still active athletes with his numerous Olympic and World championships medals, his two big crystal globes and his +20 World Cup victories in four alpines disciplines, enjoyed amazing nine wins so far in Canada where he had celebrated his maiden World cup win in November 2005!
The tall Scandinavian achieved strong performances in most of the speed races included each winter in the World Cup program, amassing around twenty podium finishes in ten resorts so far! He missed the podium in downhill in only three competitions – at Val Gardena, Garmisch-Partenkirchen and Chamonix where he couldn't do better than 8th in recent years.
He'll for sure do his best to improve that series during the coming season during which he'll fight once more very hard to challenge Marcel Hirscher in the overall World Cup standings until the Finals at St. Moritz
http://www.aksellundsvindal.com/
TED LIGETY (USA)
The best giant slalom racer on the tour certainly has not finished astonishing and impressing his supporters and rivals – with his superb technique and his list of amazing successes where one can find four consecutive gold medals in giant slalom at FIS Worlds and Olympics from 2011 to 2015.

The former slalom specialist celebrated his fist major win at Sestriere, in 2006, when he captured gold in the Olympic combined event a few weeks before winning his first giant slalom in Korea.

In February 2013, he became the first champion since Jean Claude Killy in Grenoble 1968 to clinch three gold medals at the same event as he dominated his rivals in Super-G, Combined and giant slalom at the FIS Worlds at Schladming.
With a total of seven titles amassed from 2006 to 2015 the skier from Park City already is one of the most successful ski racers ever – and only Ingemar Stenmark did better than him in giant slalom with a total of 46 victories. At the season start, Ted won his 24th giant slalom at Soelden ! Three years ago, he also became the first skier since the Italy's ski legend Alberto Tomba to dominate all three 'Classic' giant slalom races during the same season – finishing first at Alta Badia, Adelboden and Kranjska Gora. He also aims to excel in combined to clinch one day the overall World Cup title.
ALEXIS PINTURAULT (FRA)
Twice 3rd in the final overall World Cup standings in recent years, Alexis Pinturault has been considered for many years as one of the most promising and eclectic talents on the circuit! One of the very few racers able to excel in several specialties, the former junior World Champion was able to reach the podium in all disciplines except in downhill after celebrating his maiden World Cup win at Moscow in 2012 at the end of the parallel event!

The athlete from Courchevel achieved some blistering performances in 'Classics' as Wengen or Kitzbühel where he clinched the combined. He also won the slalom at Val d'Isère and Wengen and a giant slalom at Kranjska Gora a few seasons ago.
This winter he aims again once more to battle for the big crystal globe with Marcel Hirscher and the Norwegian duo Kjetil Jansrud/ Aksel Lund Svindal – yet he also has a good chance for the smaller globe awarded to the best combined racer as FIS has re-introduced that trophy as three combined events are planned at Wengen, Kitzbühel and Chamonix!
Interestingly enough, Pinturault would become the first Frenchman to excel in that World Cup trophy a few years after becoming the first and only racer from his team ever to capture the overall Europa Cup title!
http://www.alexispinturault.com/
VICTOR MUFFAT JEANDET (FRA)
Six years after his first World Cup race at Kranjska Gora and only a few months after taking 2nd place in the famous Lauberhorn combined at Wengen, Victor Muffat Jeandet achieved another great performance last year coming in 2nd in the demanding giant slalom race at Beaver Creek behind Austria 's superstar Marcel Hirscher. At that occasion, the racer from Aix-les-Bains was able to quickly and brilliantly fill-up the gap left by his better known teammates Thomas Fanara and Alexis Pinturault who both crashed hard in the first leg! A year ago, Victor didn't finish too far from the podium in that specialty (7th ) at the 2015 FIS Worlds during which he also raced the combined and the slalom.
Kindly nicknamed 'Grand Totor' by his pals from the French Team who greatly appreciate his determination and his energy, Victor achieved a strong breakthrough last season, finishing five competitions among the best- 10, what helped him to be part of the first group in giant slalom. Last winter, he was 5th in Soelden, in Beaver Creek and in the giant slalom at Meribel - and also 5th in the prestigious combined at Kitzbühel. He'll definitely be fighting for more in the three combined scheduled for the 2015/16 season.
http://www.victormuffatjeandet.com/
MARCEL HIRSCHER (AUT)
First racer capable to conquer four consecutive overall World Cup titles on the men's tour, Austria's Marcel Hirscher is not just the most successful technical specialist on the tour, yet also a very determined young athlete able to move at his limits in great occasions and major events also in Super-G and combined. It's for sure not a hazard that the skier from nearby Salzburg clinched gold in combined at Beaver Creek 2015, finishing ahead of Kjetil Jansrud after having achieved a very strong performance in the downhill leg in the morning. In past World Cup Finals, he had also been very fast in some Super-G races, finishing 3rd at Schladming in March 2012 and 4th at Méribel in 2015 before celebrating a an unexpected yet superb win last December at Beaver Creek.
Marcel also grabbed a few impressive podium finishes in past combined as in Val d'Isère (3rd in December 2008, 2nd in 2009) or Kitzbühel (3rd and 2nd in 2014 and 2015) on demanding slopes, which perfectly confirms his class and potential. His decision to enter the Kandahar combined at Chamonix will depend on his form and results in January –yet it would certainly be worth attending the event in case he'll show up!
KJETIL JANSRUD (NOR)
Interestingly enough, it's in slalom that the best speed specialist from last winter started his World Cup career at Wengen in January 2003, before becoming an excellent giant slalom specialist. But he had to wait March 2012 his maiden World Cup win - in Super-G, at Kvitfjell!

In February 2013, Kjetil suffered a painful injury at his left knee in a crash during the Super-G at the Ski Worlds at Schladming and had to end his season after surgery. Fortunately, he returned quickly at the top, winning two more races at Kvitjfell in March 2014. A few weeks before that feat, Kjetil enjoyed a remarkable Olympic triumph in that specialty at Sochi, in Russia…
Those great victories strongly re-launched his career, helping him the following season to be the toughest rival of Marcel Hirscher in the tense battle for the big crystal globe! He couldn't beat him at the end, yet with a total of six wins and four podium finishes, he became the worthy successor of Aksel Lund Svindal in the speed events standings!
The very aggressive and determined Norwegian hasn't found out the fastest way to cruise down the 'Verte des Houches' course during his past races in the French slope – but at least he came in 4th in combined back in January 2011.
ERIK GUAY (CAN)
The Canadian often excelled on the 'Verte des Houches' course since the 1980 Arlberg-Kandahar event that allowed Ken Read to enjoy a nice win ahead of his friend and teammate Davei Murray prior to the Lake Placid Winter Olympics. In recent years, Manuel Osborne-Paradis and Jan Hudec also excelled on that French run that should inspire Erik Guay, who achieved a promising comeback in North America. Considered as the leader of the 'Canadian Cowboys' because of his numerous World Cup victories and prestigious triumphs – Super-G globe in 2010 and downhill FIS gold medal in 2011 at Garmisch-Partenkirchen – the skier from Mt. Tremblant is ready to ad his name on that list.
One of the best speed skiers for more than ten years, the champion from the Province of Quebec unfortunately faced a series of tough moments after hurting injured. His last knee injury put him out of contention for more than a year yet things seem to be going in the right direction again.
This father of three nice kids enjoyed some solid performances both at Lake Louise and Beaver Creek earlier this season. His main goal now is to remain in good shape and perfectly prepare the next medal events at St. Moritz and in Korea.